NEW! Accounting and Fundraising Integration Case Study
Details

Created: Friday, 09 October 2015 15:26
When organizations streamline their accounting and fundraising processes, they spend less time on administrative duties and more time servicing their donors an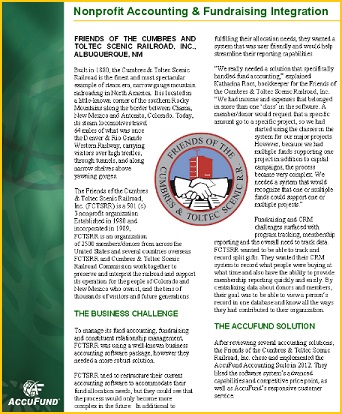 d fulfilling their mission.  That's exactly what happened with our featured client, The Friends of the Cumbres & Toltec Scenic Railroad, in this Case Study. They automated and centralized their accounting and fundraising functions. 

How did they do it? Using AccuFund's Accounting Suite and AccuFund CRM.  Here are some excerpts from the Case Study:

•    "The ability to set up a separate budget just for the projects committee and then run reports based on their budget versus actual spent, including encumbrances, allows us to be more on top of our expenditures. I can get expenditures posted and reports run so the projects committee can see how much they've spent on individual projects. That's a huge benefit."
•    "In the 16 years I've been here, it was the easiest audit we've ever gone through and I attribute that to AccuFund."
•    "It's made a huge difference by allowing us to know whether checks are posted in the accounting system. It's very accurate and reliable and it allows me to reconcile my CRM to what I have in the bank and see that we're tracking properly."

Read The Friends of the Cumbres & Toltec Scenic Railroad Case Study.