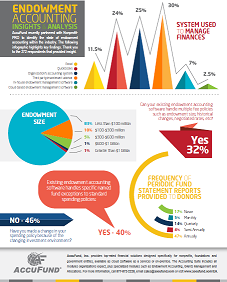 Survey Says! Opportunities Abound for Organizations to Improve Endowment Management

AccuFund recently commissioned publisher Nonprofit PRO to survey its readers (nonprofit finance professionals and top organization management) to benchmark the methods used to manage endowment accounting. With 272 endowment professionals responding, the vast majority of organizations (83%) manage endowments less than $100 million.

Opportunities Abound!

In spite of endowment management solutions available, only a small percentage of organizations (9.5%) are using one. Rather, 35.5% are reliant on entry-level solutions requiring manual intervention and 55% are using an exorbitant system. The alarmingly high number of respondents (90.5%) using inefficient systems ultimately prevents their organization from effectively managing their endowments. The opportunity for improvement is enormous!

• 9.5% of respondents use in-house or cloud-based endowment management software
• 35.5% indicate using Excel or QuickBooks
• 55% use the organization's accounting system or a third party investment advisor

Trending Towards Transparency! As the trend continues to move towards increased organizational transparency, reporting is a critical component that, when using an endowment-specific management solution, enables organizations to communicate efficiently and efficiently with all appropriate parties.


The 2015-2016 Endowment Accounting Insights & Analysis Survey sought information central to endowment accounting management, including the frequency of fund statement reports, the systems used to manage finances, and specific software features used to manage endowments. Learn more…view the entire 2015-2016 Endowment Accounting Insights & Analysis Survey Infographic.

---
AccuFund is 100% focused on serving nonprofits and government entities. It's all we do. AccuFund is dedicated to providing easy-to-use, flexible, and powerful financial management software supporting nonprofits, endowments, representative payees and government organizations.