2015 User Group Meetings
Details

Created: Monday, 03 November 2014 14:51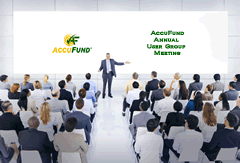 Join us in person or online to learn first-hand about the updates, enhancements and new features AccuFund Accounting Suite has to offer you, your staff and your organization!

During the meeting, we will introduce and update all users on version 5.04, including new account reconciliation features, and the new free dashboard.  Additionally, we will review year-end processing updates, ACA and 990 reporting.

The preliminary agenda includes:
Introduce/update on AccuFund 5.04
New Account Reconciliation functionality
Training on the new Free dashboard
Changes in year end process especially W2s
Update on available documentation
10 things you may not have known you could do in AccuFund
ACA update
Year-end processing update
Review of 990 reporting capabilities
Product update plans for 2016
General Q&A
Register for a session near you:

Denver, CO - November 12, 2015
Pittsburgh, PA - November 17, 2015
Los Angeles, CA - November 19, 2015
No California/Bay Area - November 19, 2015
New England/Concord, NH - December 4, 2015

The fee for the regional meetings is $125 per person. The meeting runs from 9:00 a.m. - 4:00 p.m. Lunch included.

Unable to join us in person? No problem, register for the Online User Meeting that will contain the same information as the regional meetings.

Online Training - Thursday, December 3, 2015 (1:00-5:00 p.m. ET)

The fee for the Online Meeting is $125 per organization. You can login to the meeting from your conference room or other gathering area. This fee will allow one login registration to the meeting, but you can have several people sit in wherever you are viewing the session at your offices.  If you need additional login credentials for your company they are $125 each.