Representative Payee Best Practices White Paper

The White Paper, Efficient Execution of Representative Payee Best Practices, highlights representative payee best practices and recommendations to help social services organizations and government agencies manage their clients' needs.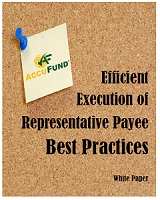 This White Paper first addresses the responsibilities and best practices aligned with SSA requirements and secondly describes features and functions needed in a representative payee system to help agencies:

•    Save significant time,
•    Realize real-time clarity on all accounts,
•    Reduce direct costs,
•    Dramatically reduce errors, and
•    Reduce reliance on spreadsheets to manage accounts.

Download the White Paper.