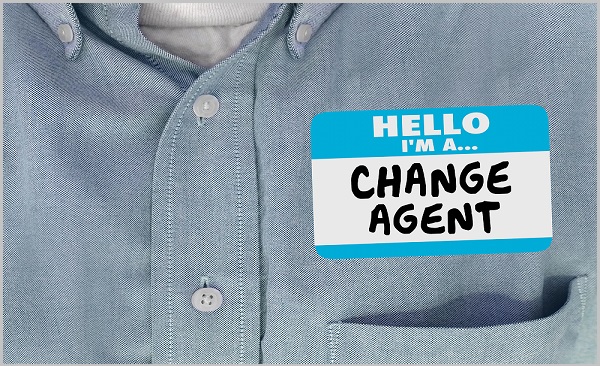 When mapping the direction and strategy of your nonprofit, the ultimate goal is always mission fulfillment. But are there habits and processes that need to change in order to see dramatic improvement?
Are there change agents within the organization that have pointed to areas of deficiency who have been routinely told "not yet"? Are there areas of the organization that are operating exactly as they did five years ago, ten years ago? What about your accounting department? Are they using the same processes and tools as they were years ago? Is the only change the increased number of spreadsheets they are maintaining rather than the method of information delivery?
If the answer to any of the preceding questions is "yes" – change has been avoided. Whether the avoidance is intentional or unintentional, it really doesn't matter. What matters is that your organization is at a strategic disadvantage.
ENTER THE NONPROFIT CHANGE AGENT
Here is a scenario that we see frequently: there is turnover in an organization and a new Finance Director is brought in who assesses the status quo and determines that change needs to happen quickly. Systems need to be implemented, processes need to be retooled, and financial reporting overhauled to ensure faster delivery of accurate information to the stakeholders in the organization.
The new Finance Director understands that decisions are impaired without the backing of sound and timely financial data. He or she understands that programs cannot be optimally executed without a thorough understanding of program funding and expenditure status. The Finance Director also knows that accountability begins and ends with complete clarity of the organization's financial standing. Providing the transparency that today's funders and donors demand, is impossible without immediate access to and understanding of financial data.
But what if your organization has not had turnover? What if there isn't a new executive team member who brings fresh eyes to your systems and routines?
ASSUME THE ROLE OF CHANGE AGENT
If a change agent within your organization hasn't emerged, you must be the agent of change. It's usually not a role that many want to assume. That's because change is hard – there's no denying that. But the consequences of not changing are grave. Inadequate systems and processes eventually break down or slow to the point of ineffectiveness and, sadly, failure. Failure to secure a new grant. Failure with a major donor. And, in some cases, failure to ensure the sustainability of the organization.
"All failure is failure to adapt, all success is successful adaptation," writes Max McKeown author of Adaptability: The Art of Winning in an Age of Uncertainty.
Resisting change is an exercise in futility because even if the individual or the organization doesn't change, the environment in which the individual and organization operates is constantly changing.
A change agent recognizes the evolving environment and seeks to adapt to that environment for the good of the organization and the constituents whom the nonprofit serves. A change agent understands that change is difficult but necessary. A change agent seeks to inspire a positive approach to change, because as retired U. S. Army General Eric Shinseki succinctly put it, "If you don't like change, you are going to like irrelevance even less."
BEGIN WITH THE END IN MIND
What is the desired future state of the organization? Addressing change should be a part of every planning session. As the organization maps out its vision, a sober and unflinching assessment of the status quo should happen at the same time. Do you have the people and systems in place to allow that vision to unfold?
In other words, challenge the status quo. The "way we've always done things" approach does not foster change. Are you committed to investing in the tools, technology and solutions necessary to attain the vision? If not, you are simply hoping that somehow the vision will emerge despite the constraint-based thinking. Hope, we know, is not a strategy.
Constraint-based thinking is evident in comments like, "we can't afford to spend the money necessary for a new accounting system." If, over the years, that has become a familiar mantra within the organization, at least investigate whether or not it is true. Much has changed over the years. Technology has evolved at break-neck speed and solutions are more and more affordable while remaining feature-rich.


---
AccuFund helps nonprofit organizations see how their vision can be actualized with modern fund accounting.
• Program managers can fine-tune their programs without fear of over- or under-spending with timely, reliable reporting.
• Grant writers have immediate access to historical data and outcomes to act quickly on new grant award opportunities.
• Development directors can easily access information to show donors the impact of their gifts to-date and future impact of additional gifts.
• The executive team and the board gain a thorough, accurate understanding of the organization's financial health.
We've helped nonprofit organizations leverage technology to move to a paperless office environment saving tens of thousands of dollars. With AccuFund, the accounting team can now use the time they used to spend on creating and maintaining spreadsheets to evaluate vendors and negotiate better terms. Audits are easier. Accounts Payable is easier to execute and accounts are easier to review thereby eliminating late payments and late fees, and avoiding duplicate payments.
We know that every organization is different. We work with you to understand your vision and then demonstrate how AccuFund can help you attain that vision, what it will cost, what it will save, and how it will empower your team.