Client Training Opportunities
---
ACCUFUND ADVANCED TRAINING
Englewood, Colorado
March 21 & 22, 2020

AccuFund is pleased to announce NEW Advanced Training opportunities for AccuFund clients. AccuFund Advanced Training will be held in Englewood, Colorado on March 21 & 22, 2020. Register for one or two days of training. Save $90 if you register for both days. Space is limited.

Saturday March 21, 2020 — TOPIC: Automations & Calculations
9:00am—5:00pm (Lunch Included, as is Breakfast from 7-9am)
The Automation Workbench module is used for streamlining tasks in AccuFund. Create bills, allocate, perform data analysis using data across modules, automate tasks, driver integrations with other applications and more. This training is intended for intermediate to advanced users with the skills necessary to create automations and implement them at their organization.
Sunday March 22, 2020 — TOPIC: Advanced Report Writer
9:00am—5:00pm (Lunch Included, as is Breakfast from 7-9am)

AccuFund's powerful reporting tools enable users to create customized reports utilizing data across modules. This training is intended for users who have had some training on AccuFund's report writer and are interested in finding out more about creating variables, using functions, grouping, totals, demographics, creating and working with AccuFund Dashboards, filters, working with dates, plus much more.
Register Today!
---
WHAT'S TRENDING: SECURITY IN ACCUFUND
Monday, February 24, 2020
2:00 - 3:00 PM ET

AccuFund has extensive options to help ensure your data is secure. This free, "What's Trending" training session will cover everything you need to know about Standard and Professional Edition Security.
• Security Configuration & password settings
• User Setup
• Standard Task Security and options
• Professional Edition Security including - Account, Department and Report Security
Register Today!
---

ACCUFUND SUMMIT FOR NONPROFITS & GOVERNMENT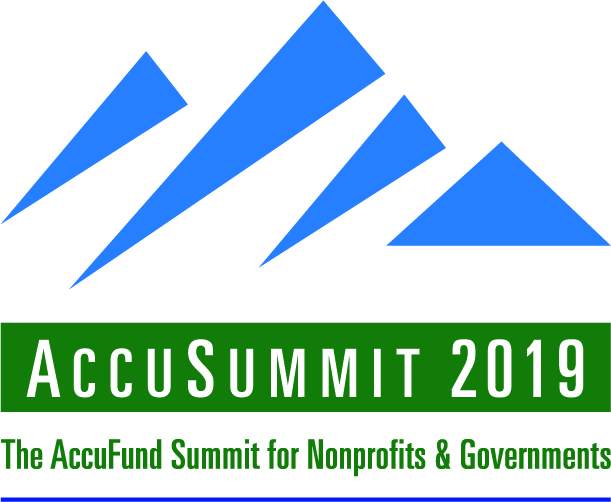 AccuFund's 2nd National User Group meeting, AccuSummit 2019, AccuFund Summit for Nonprofits and Government, was held October 21-23, 2019 in Colorado Springs, Colorado.

More information can be found at: www.accusummit.com.


---