Client Training Opportunities
---
ACCUFUND ADVANCED TRAINING
Englewood, Colorado
March 21 & 22, 2020 - Canceled. We are in the process of developing a remote learning alternative for this event. Thank you for your patience.

AccuFund is pleased to announce NEW Advanced Training opportunities for AccuFund clients. AccuFund Advanced Training will be held in Englewood, Colorado on March 21 & 22, 2020. Register for one or two days of training. Save $90 if you register for both days. Space is limited.

Saturday March 21, 2020 — TOPIC: Automations & Calculations
9:00am—5:00pm (Lunch Included, as is Breakfast from 7-9am)
The Automation Workbench module is used for streamlining tasks in AccuFund. Create bills, allocate, perform data analysis using data across modules, automate tasks, driver integrations with other applications and more. This training is intended for intermediate to advanced users with the skills necessary to create automations and implement them at their organization.
Sunday March 22, 2020 — TOPIC: Advanced Report Writer
9:00am—5:00pm (Lunch Included, as is Breakfast from 7-9am)

AccuFund's powerful reporting tools enable users to create customized reports utilizing data across modules. This training is intended for users who have had some training on AccuFund's report writer and are interested in finding out more about creating variables, using functions, grouping, totals, demographics, creating and working with AccuFund Dashboards, filters, working with dates, plus much more.
---
CLIENT WEBINAR: FIXED ASSETS, REQUISITIONS & PURCHASING
Monday, June 8, 2020
2:00 - 3:00 PM ET

Join us for the next AccuFund Client Webinar, highlighting Fixed Assets, Requisitions and Purchasing. Register Today!
The Fixed Asset component tracks the acquisition, depreciation and disposal of all assets held by your organization. This module can be used for compliance with upcoming new Capital Lease standards: FASB ASC 842 and GASB 87.
Fixed Assets portion will cover:
Acquiring Assets – Including AP Integration
Modifying Assets
Calculating Depreciation
Asset Disposal
Set-up for Lease Accounting
The Requisitions Management module offers organizations control over the entire purchase & payment request process. This module automates and streamlines your organization's bill payment processes. It is also used for requisition approval in the purchase order process.
The Purchasing module is designed to manage all of your purchase order needs and provides integrated inventory control. The component updates all values in real time, providing current stock level information and General Ledger encumbrance balances.

Requisitions & Purchasing portion will cover:
Supply Requests and Employee Expense approval
Setup and Approval Routing options
Request for Bill Payment
Request for Purchase
Purchase Order Receiving
Inventory Items
---
WHAT'S TRENDING: IMPORTING IN ACCUFUND
Monday, June 22, 2020
2:00 - 3:00 PM ET

Almost anything that can be manually entered into AccuFund can be imported. If you have external systems where importing batches would be most efficient, be sure to attend this session and learn about importing in AccuFund. The session will cover:
Importing Options & Examples: Journal Entries & Cash Receipts
Advanced Import Functionality
Scheduling Imports
---

ACCUFUND SUMMIT FOR NONPROFITS & GOVERNMENT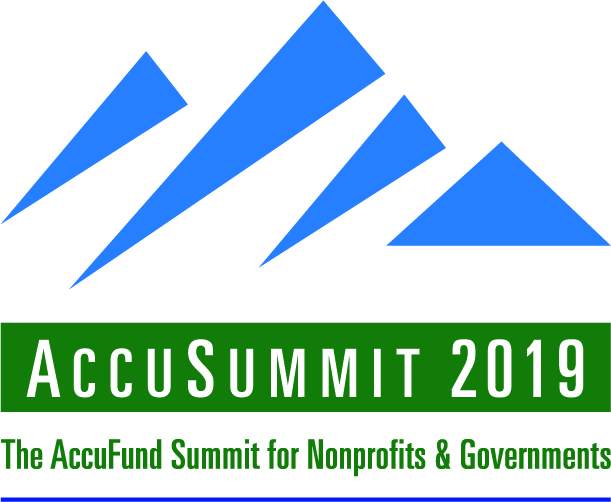 AccuFund's 2nd National User Group meeting, AccuSummit 2019, AccuFund Summit for Nonprofits and Government, was held October 21-23, 2019 in Colorado Springs, Colorado.

More information can be found at: www.accusummit.com.


---