AccuFund Unveils 2015-16 Nonprofit Accounting Survey Results
The 2015-2016 Nonprofit Accounting Insights & Analysis Survey sought information central to nonprofit accounting management, including the amount of time spent inside and outsid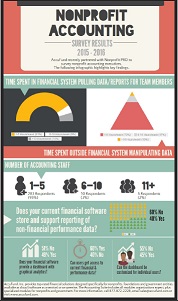 e an organization's financial system pulling and manipulating data, as well as specific software features used to manage nonprofits.

AccuFund commissioned publisher Nonprofit PRO to survey its readers (nonprofit finance professionals and top organization management) to benchmark nonprofit financial management. Nearly 300 nonprofit professionals participated in the survey.

Key Findings Include:

•    More than half of all respondents struggle with reporting non-financial performance data.
•    Overall majority don't enjoy the automation of reporting with 73% spending up to 5 hours per week manipulating data outside their financial system and 27% spend more than 6 hours per week.
•    95% report having under 5 accounting staff members; the reporting bottleneck can't be solved by manual intervention.

View the 2015-2016 Nonprofit Accounting Insights & Analysis Survey Infographic for complete details.

Read the full press release.