On-Demand Webinar: Streamline Rep Payee Operations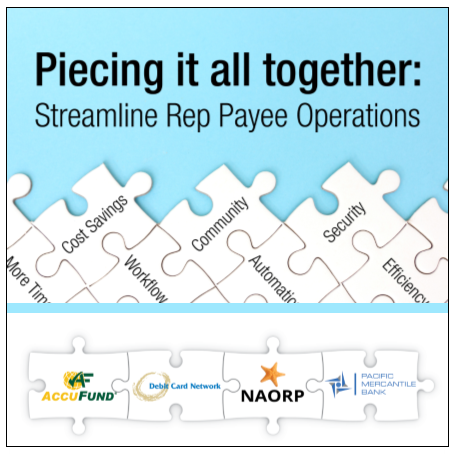 AccuFund, Debit Card Network, Pacific Mercantile Bank, and NAORP (National Association of Organizational Representative Payees) teamed up to offer the Representative Payee community a behind-the-scenes look at ways you can improve efficiencies to do more, be more and serve more.

The collaborative informational Representative Payee Webinar, Piecing It All Together, Streamline Rep Payee Operations, is now available on-demand.

The webinar highlighted how your organization can:
Streamline and automate rep payee processes,
Strengthen internal control and enhance audit trail,
Reduce costs and improve payment processes,
Explore banking functions to save time and money,
Eliminate bank fraud,
And more.