FASB ASU 2016-14 Reporting Requirements
Resources for Nonprofits.
The Financial Accounting Standards Board (FASB) has issued a new accounting standards update specifically for nonprofits (ASU 2016-14) to improve the current net asset classification requirements and the information presented in financial statements and notes about a nonprofit entity's liquidity, financial performance, and cash flow.

The overall goal is to provide more useful information to donors, grantors, creditors, and other users of financial statements, particularly addressing the long-term sustainability of the organization. Consequently, the new standard will require organizations to disclose more information about their organization status, and liquidity.

This is the first major set of changes to nonprofit financial statement presentation standards since 1993.

Are you ready for FASB ASU 2016-14? We're here to help.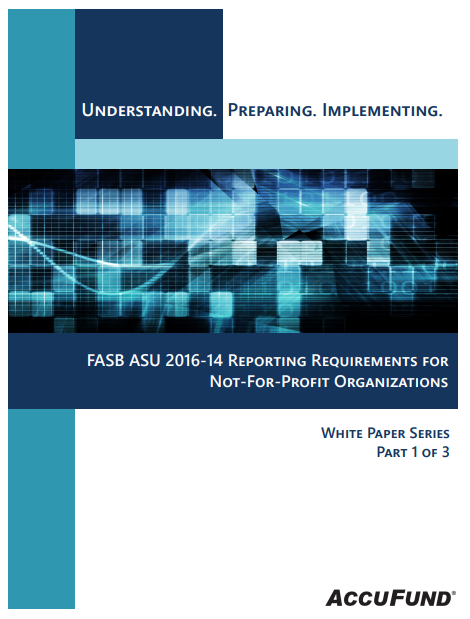 AccuFund has developed an assortment of support materials to help you and your organization prepare for the new FASB ASU 2016-14 reporting requirements.

• Understanding. Preparing. Implementing. FASB ASU 2016-14 Reporting Requirements White Paper, Part 1
• Understanding. Preparing. Implementing. FASB ASU 2016-14 Reporting Requirements White Paper, Part 2
• Understanding. Preparing. Implementing. FASB ASU 2016-14 Reporting Requirements White Paper, Part 3
• Blog: FASB ASU 2016-14 Deadlines are Looming - It's Time for Urgent Attention
• Blog: How Will You Accomplish the New FASB ASU 2016-14 reporting requirements?
• Nonprofit Reporting White Paper
• Functional Expense Reporting (FER) White Paper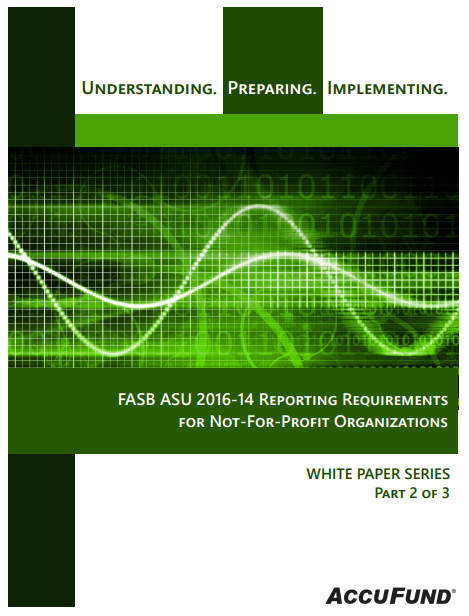 Related FASB ASU 2016-14 Support Information.

• FASB ASU 2016-14 Full, 270-page standards update

• Nonprofit Quarterly Webinar – FASB – Key Changes: Liquidity & Availability. AccuFund Sponsored Webinar
• Nonprofit Quarterly Webinar – FASB – Restricted Contributions, Functional Expenses. AccuFund Sponsored Webinar
• Nonprofit Quarterly Webinar – FASB – Disclosures, Endowments, Cash Flow. AccuFund Sponsored Webinar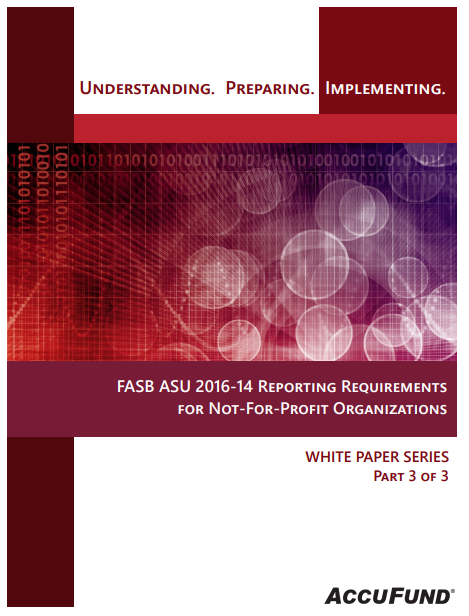 • Nonprofit PRO Interview with Jeff Mechanick, assistant director of the nonpublic entities for the FASB