Optimize Your Salesforce Nonprofit Solution - White Paper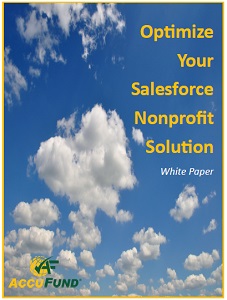 Make the most of your Salesforce investment.

Whether you are preparing to implement your new donor database, looking for ways to maximize your data centric fundraising efforts, or optimizing your database to meet changing needs, this white paper outlines 5 Key Steps your organization can take to get the most out of the Nonprofit Salesforce Solution.

Probing questions and thoughtful insights abound throughout this white paper.
Is your database functionality aligned to the organizational goals/objectives?
Is working with data becoming a chore?
Are you able to efficiently provide the reports leadership needs?
Are you missing pieces of data that are necessary for reporting?
What tools or customizations are needed to create efficiencies for your organization?