AccuFund Recognizes Top Resellers for 2019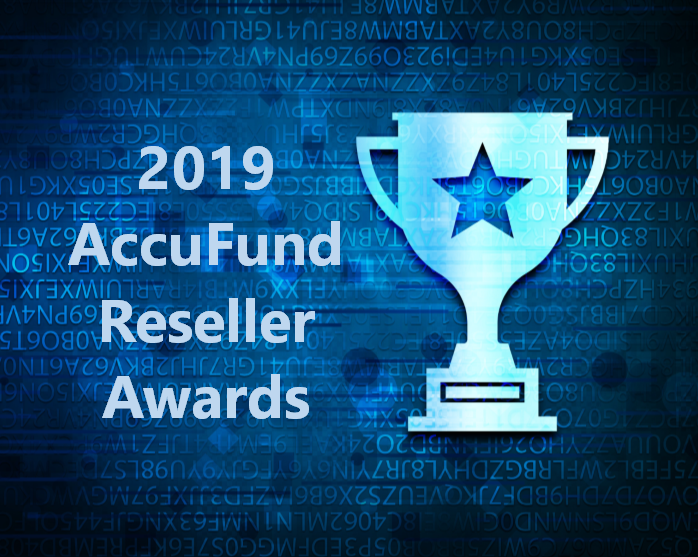 AccuFund Announces Top Performing Resellers for 2019. Awards Presented During AccuFund's Virtual Reseller Meeting.
Focus on Past Success and Future Assistance to Clients During COVID-19 Crisis.
AccuFund, Inc., provider of accounting and financial management software for nonprofit, local municipal and government organizations, today announced the recipients of its annual Partner Leadership Awards for sales and marketing success in the previous year. Presented during a virtual meeting in response to the COVID-19 crisis, 2019 awards recognize the volume sales leaders for the AccuFund Accounting Suite. The reseller meeting also highlighted new system features, including recent API integrations with FormStack.

AccuFund bestowed Partner Leadership awards for overall volume sales leadership, volume sales leadership in the government and nonprofit sectors, volume leadership in add-on sales and total unit sales, volume leadership in representative payee sales, marketing excellence and customer installation and support excellence.

The 2019 AccuFund Partner Leadership award recipients were as follows:

• ComputerWorks NFP Solutions - Volume Sales Leader, overall
• Inventive Software Systems - Volume Leader, 2nd place
• EMK, Inc. - Volume Leader Government Sector Sales
• ComputerWorks NFP Solutions - Volume Leader in NLR from Var Leads
• Inventive Software Systems - Volume Leader in Add-On Sales
• Cornsilk Company - Partner Leader in Marketing Excellence
• Brisbane Consulting Group, LLC - Partner Leadership Award
• Watkins, Ward & Stafford - Partner Leader in Support Excellence

"We are so proud of our Resellers for their commitment to solving their customers' problems and addressing their finance management needs with the implementation of our products," said Ian Scotland, vice president and general manager of AccuFund, Inc. "their dedication to their clients makes us so grateful for their partnership. Knowing we are all working together to support nonprofits and local governments to help their community members is incredibly powerful."

View the full AccuFund 2019 Reseller Awards Press Release.

Find an AccuFund Reseller in your area.