Endowment Core
AccuFund Anywhere Online
Manage Your Endowment More Efficiently and Accurately
Developed specifically for endowments and foundations and built on a robust accounting platform, AccuFund's browser native Endowment Management System ensures reliable data with a strong audit trail.

By providing tools that make it easy for staff to monitor deadlines, attach documents, and distribute reports, the module enables a more active and efficient approach to fund management.

Should you need to do the day-to-day accounting for your endowment, simply pick and choose from AccuFund's regular accounting modules, such as Accounts Payable, Grant Management, Accounts Receivable, and more.

Powerful API capabilities open up a range of possibilities for integrations such as donor management and other ERP systems.
Core Components
The following components are all part of the AccuFund Endowment Management System:
Fund Management
Allocations of Interest, Dividends, Change in Market using Automation Workbench
Disbursement/Spend Down per Fund Rules
General Ledger
Financial Report Writer
Dashboard
Reports/Forms Designer
Data Export and Import
System Security
Document & Image Scanning
Endowment Core Onsite Version
Looking for the onsite version of this module?

Take Advantage of Optional Investment Pool Tracking
The AccuFund Endowment System can automatically unitize funds and investment pools. This makes UPMIFA compliance easier, because spending rules are set up to preserve endowment capital. While default spending rules are provided, they can be customized as required.

Similarly, the allocation of earned and unearned investment earnings can be allocated using default options provided by the system or customized to match your specific needs.

Investment Pool Tracking manages information such as Investment Type, Investor Name, Target Percentages, and Initial Investment Amount. Other fields can be added as desired, with unlimited capacity.

Users can also check investment pool performance and run reports and queries on investment pool history. This module integrates with the Dashboard, providing an at-a-glance view of investment pool information.
Add-On Modules Help Customize your Solution
Different endowments have different financial software needs. Any of the following modules may be added as desired:
Accounts Payable
Accounts Receivable with Inventory
Fixed Assets
Payroll (Human Resources, Employee Portal, Employee Timesheet Entry, Time Clocks)
Requisitions Management
Purchasing with Inventory
Grants Management
Budget Development
Position Control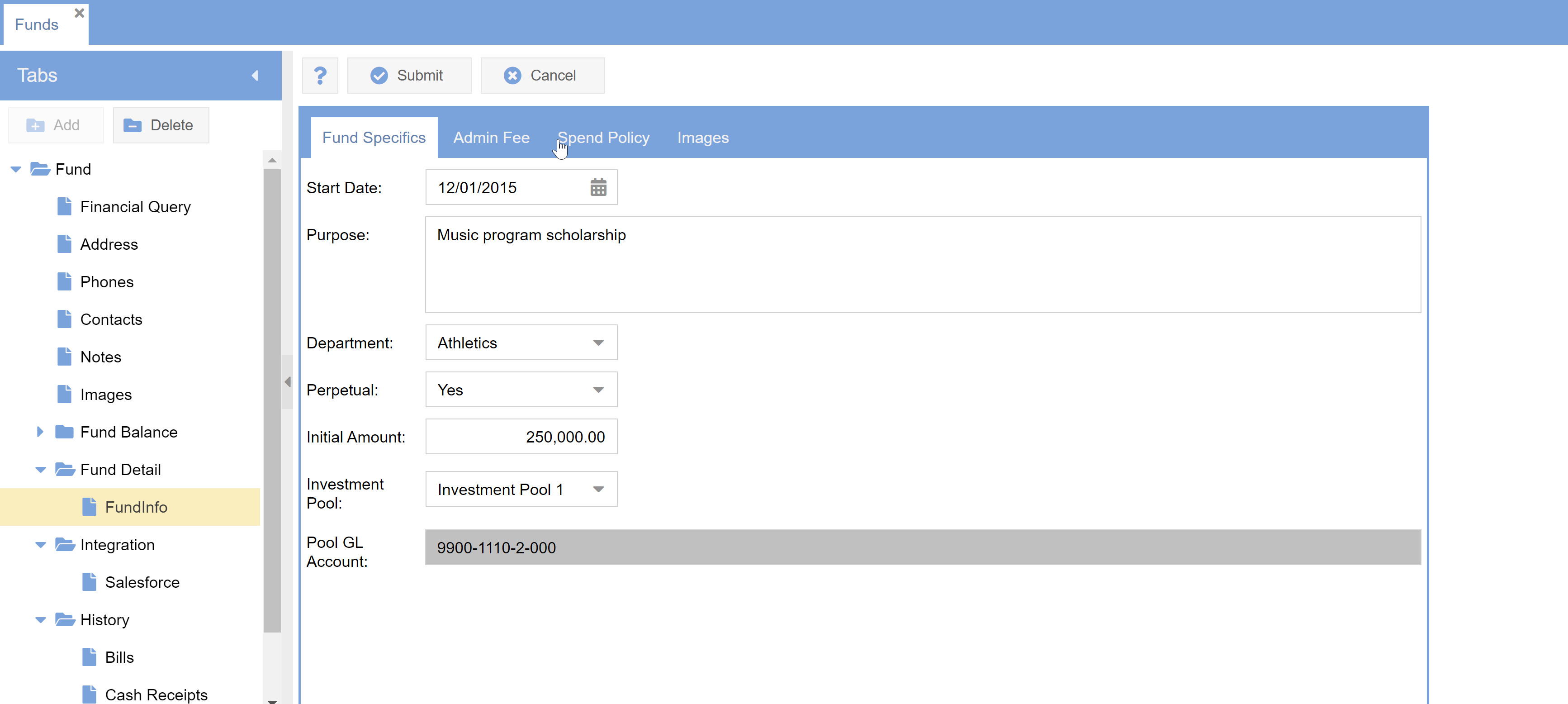 Let's Get Started
AccuFund supports your mission with a full suite of financial management applications for nonprofit and government organizations. To learn more and arrange a demo, contact AccuFund at 877-872-2228 or This email address is being protected from spambots. You need JavaScript enabled to view it. or visit www.accufund.com.