Work Orders
AccuFund Anywhere Online
Keep Track of Multiple Maintenance, Repair and other tasks—All in One Place
Gain centralized control over maintenance, repair and other work requests with AccuFund's browser based Work Orders module, which you can link conveniently to service locations (complete with mapping imagery), existing tax and billing records, and fixed assets such as vehicles or machinery.

Nonprofit and government organizations with busy maintenance teams and/or IT service departments—especially those that schedule and track multiple jobs at multiple locations—can benefit from AccuFund Work Orders.
Save Time and Increase Productivity
AccuFund's Work Orders module offers valuable functions that increase efficiency:
Open a work order simply by entering a name or address. If it's already in your system, the other contact fields will be filled in automatically.
Associate your work orders with service locations, fixed assets, or properties listed in your AccuFund Property Tax Billing module.
Work Orders is ideal for state and municipal call centers that field reports of various incidents, such as broken water mains, downed tree limbs, and leaky fire hydrants.
Work Orders Onsite Version
Looking for the onsite version of this module?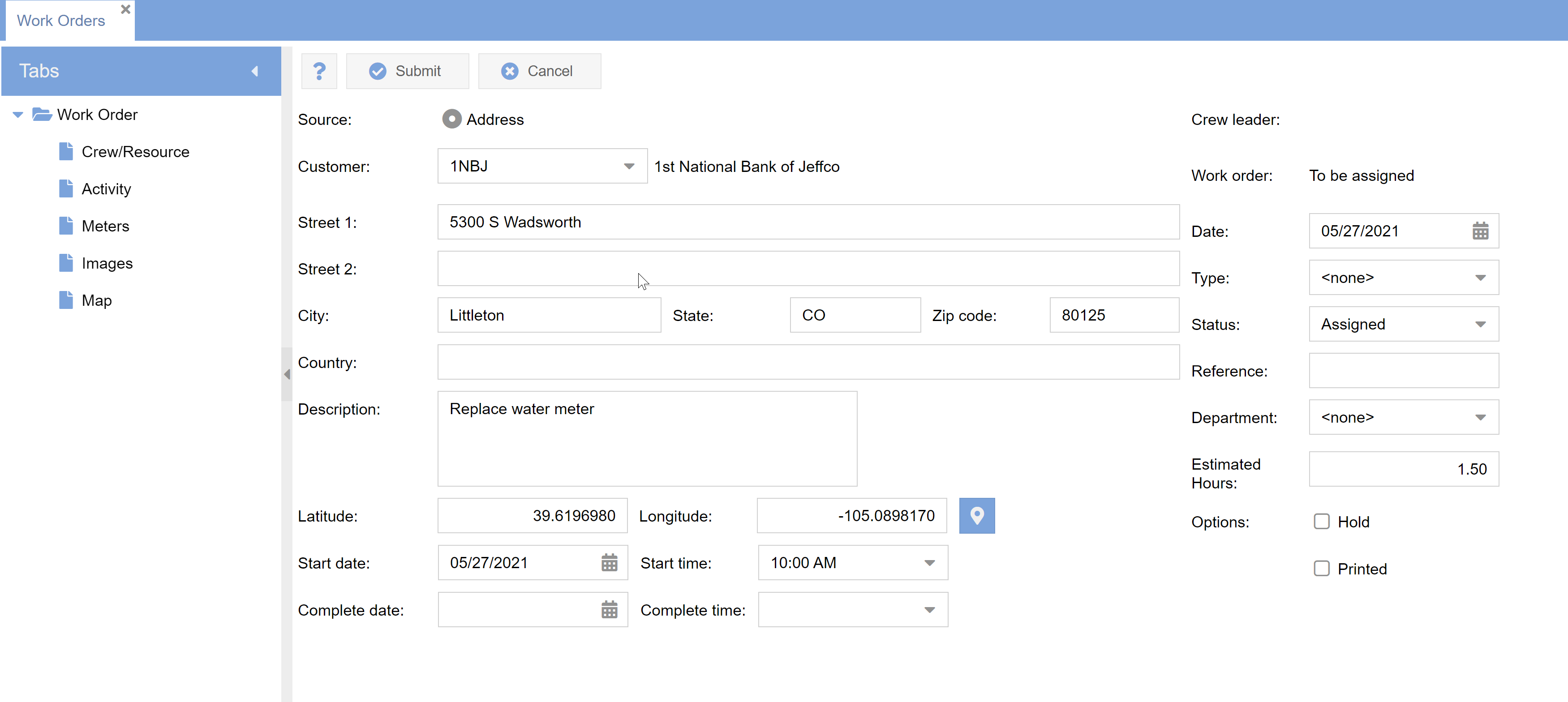 Improve Your Work Order Workflow
The Work Orders module makes it possible to manage different types of repair and maintenance requests related to buildings, infrastructure, vehicles, computers, and general equipment.

Specific personnel can be assigned to each work order, and if a group of employees is necessary one person is designated as the crew leader.

All documentation is stored securely for access by authorized users. Once a work order has been created, users can enter details and update its status to "Design," "Open," "Assigned," "In Progress," "Completed," and "Cancelled."
Real-time reports can be printed at any time or scheduled for automatic printing. While custom reports are easy to make, the default templates—Work Order Activity, Work Order Activity with Meters, and Work Order Status—cover most reporting needs.
Enjoy Greater Convenience with Built-in Integrations
To streamline your processes even more, AccuFund's Work Orders module ties into other key applications:
Document Management—add photos, contracts, and other documents to a work order
Mobile Apps—Employees with Android and iOS devices can easily edit work orders in the field
Utility Billing—Tasks for meter replacements and pipe repairs can be added to constituent utility bills
Permits and Inspections - Setup and schedule tasks related to your permitting and inspections process.
Fixed Assets—Assets such as trucks and backhoes can be assigned to crews to complete projects and work orders can be created to repair and maintain vehicles, computers, and other fixed assets

Let's Get Started
AccuFund supports your mission with a full suite of financial management applications for nonprofit and government organizations. To learn more and arrange a demo, contact AccuFund at 877-872-2228 or This email address is being protected from spambots. You need JavaScript enabled to view it. or visit www.accufund.com.