Financial Reporting
AccuFund Onsite
Get the Right Information to the Right People
Every government entity and nonprofit organization must provide reports to different stakeholders and AccuFund Financial Report Writer allows you to get the right information in the right hands at the right time.

All required internal management and external financial reports can be developed in the AccuFund Financial Report Writer, making it easy to tailor the level of detail, reporting periods, and types of data for various audiences.

The AccuFund Financial Report Writer unleashes your General Ledger financial data by giving you complete control over the content and layout of reports. You can customize any report to meet the specific reporting and formatting requirements of your organization.


Financial Reporting Online Version
Looking for the cloud online version of this module?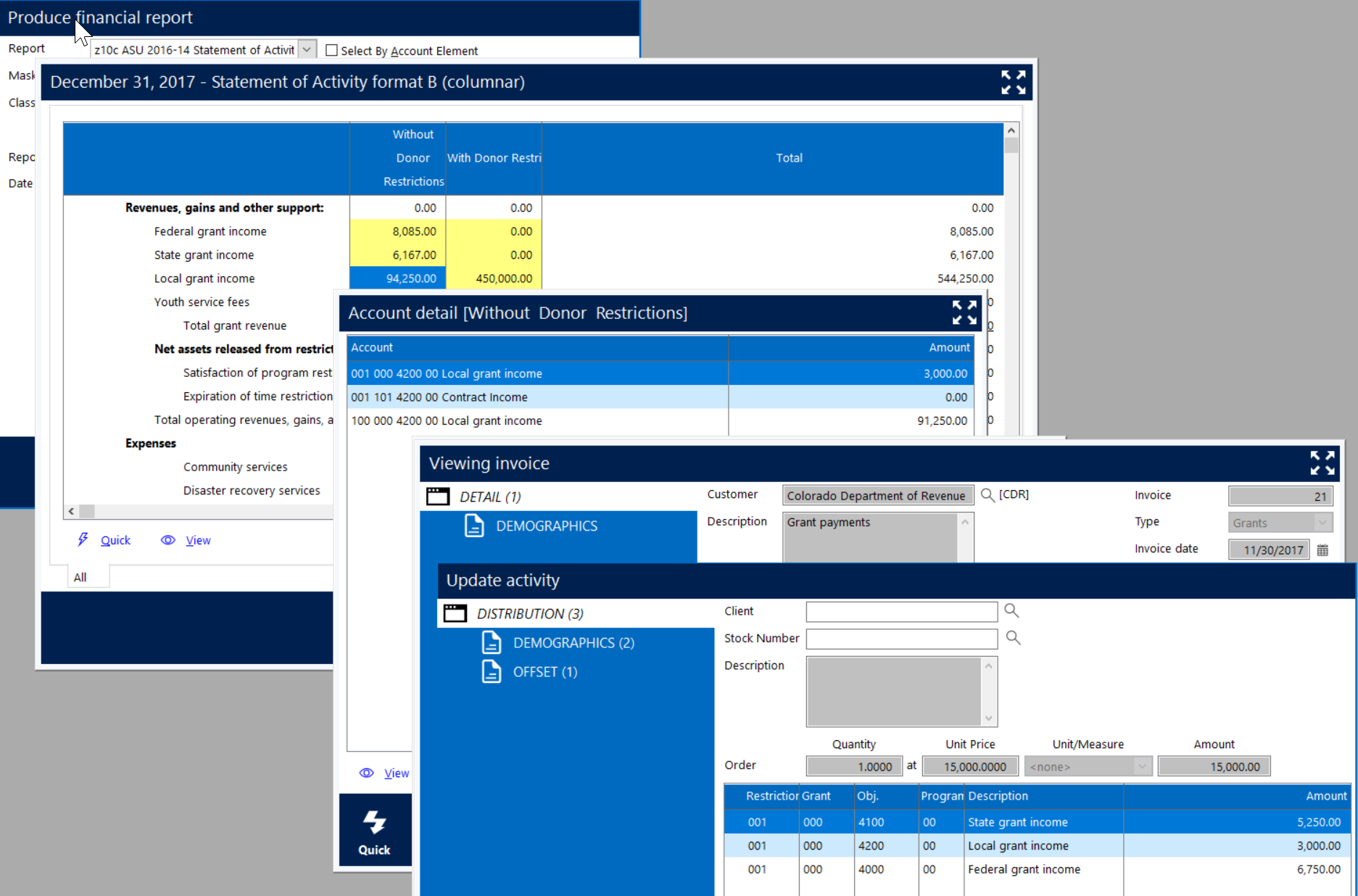 Reporting Possibilities Abound—Predefined and Custom
The module comes with sample reports you can use as a basis for new reports, or you can design reports from scratch. To create a report, a user simply defines columns, including:
"Descriptive" for row titles
"Account" and "Classification" to report numbers from the General Ledger
"Calculated" for variances, totals, differences, and percentages
In the data columns, users can select types of data, such as actual, budget, and encumbrance, and apply account masks to restrict the data in a column to specific accounts. For example, you could restrict accounts to funds/departments or revenues/expenses.

Rows are defined to include specific account groups, title rows, subtotals and totals. Typically, rows limit the accounts to groups required in a balance sheet, including assets, liabilities, and net assets.
Our Full Suite of Features Is Designed with Your Needs in Mind
Nonprofits and government agencies have different reporting requirements from commercial entities. Use the Financial Report Writer to:
Generate GASB and FASB compliant financial statements.
Generate FASB ASU 2014-16 reports.
Generate two budget versions in a single report, as required for GASB 34 and also valuable for fiscal versus grant reporting in nonprofits.
Meet grant and project reporting needs with inception-to-date and date ranges across fiscal years.
Re-order the account structure for a specific report.
Track encumbrance, requested, allocation, and memo entries.
Create reports that enable drilling down into accounts and transaction details.
Define rows and columns with account groupings called classifications.
Preview reports before printing.
Output financial reports four ways: to a printer, through email, saved as a PDF or HTML file, and exported as an Excel or CSV file.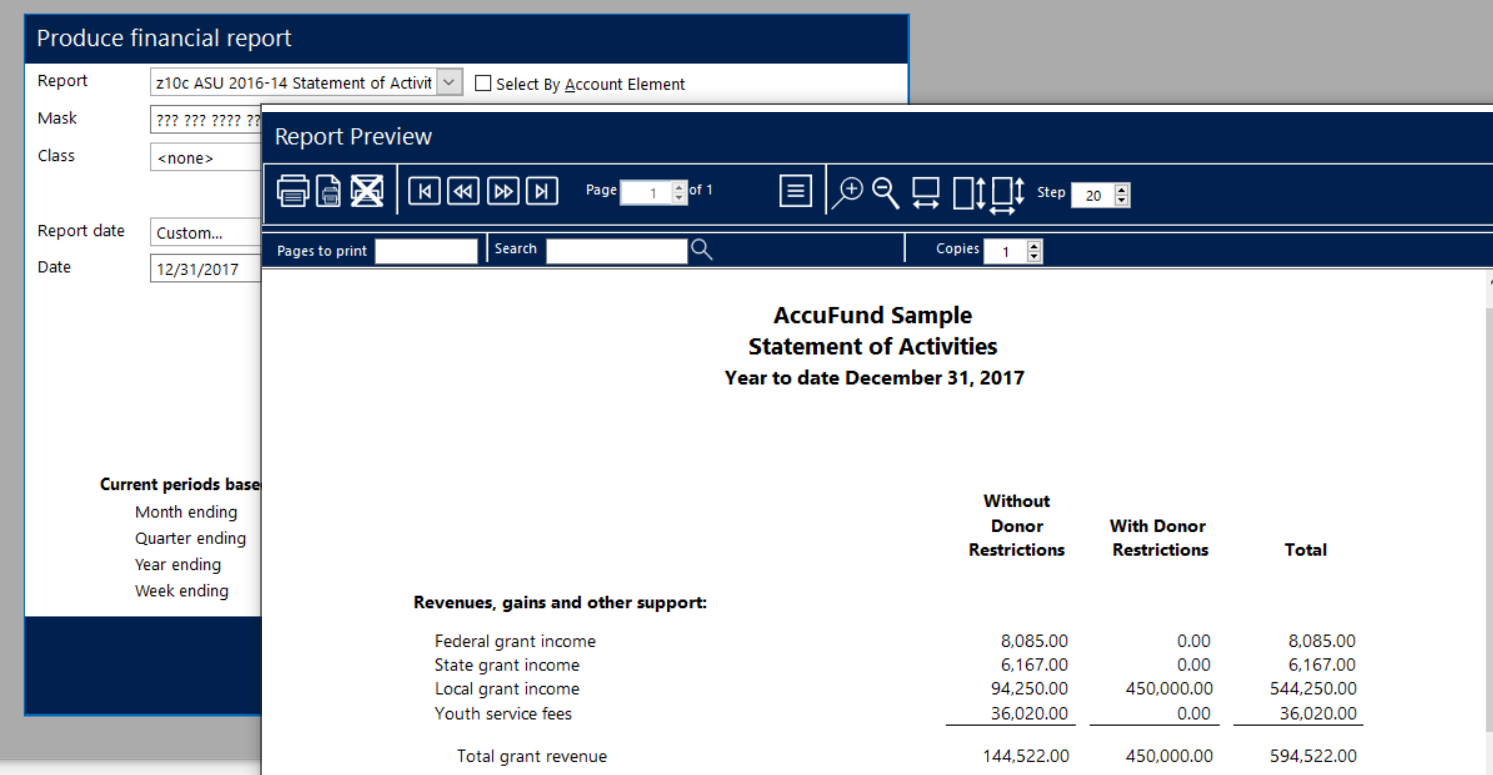 Get Started Right Away with an Extensive Library of Standard Report Templates
The Financial Report Writer offers 16 standard reports that you can customize for your specific account structure. These include:
Trial Balance—Consolidated
Trial Balance—Detail
Working Trial Balance
Consolidated Balance SheetBalance Sheet by Fund
Combining Balance Sheet
Consolidated Revenue and Expense
Combining Revenue and Expense—Department
Combining Revenue and Expense—Fund
Consolidated Revenue and Expense—MTD/YTD
Consolidated Revenue and Expense—MTD/YTD with Encumbrances
Revenue and Expense MTD/YTD by Department
Revenue and Expense MTD/YTD by Fund
Cross-Year Revenue and Expense
Consolidated Revenue and Expense—Year-to-Year Comparison
Statement of Cash Flows
Let's Get Started
AccuFund supports your mission with a full suite of financial management applications for nonprofit and government organizations. To learn more and arrange a demo, contact AccuFund at 877-872-2228 or This email address is being protected from spambots. You need JavaScript enabled to view it. or visit www.accufund.com.