Payroll
AccuFund Onsite
A Better Way to Process Payroll
The AccuFund Payroll module is the backbone of AccuFund's Human Resources Management Suite (HRMS). The Payroll module empowers your agency to process payroll efficiently and accurately.

As an integral part of AccuFund's Accounting Suite, the Payroll module ensures the proper handling and posting of payroll data. It also optimizes the use of payroll data in the overall management of your government or nonprofit agency.


Payroll Online Version
Looking for the cloud online version of this module?

Keep Your Data Organized and Up to Date
AccuFund's Payroll module puts the payroll data your agency needs at your workers' fingertips. Employee payroll data—including earnings rates, taxes, deductions, and benefit accruals—are entered on the employee record and important documents can be stored right along with it.

The AccuFund Payroll module tracks detailed time sheets for each employee and every payroll period, including earnings distributed by department or project, pre-tax deductions, taxes, post-tax deductions, non-payroll earnings, employer costs, and accruals. Payroll staff can view and process time sheets the moment they're entered.

Although you can import timesheet data from any source, or even input manually, integrating Payroll with AccuFund's Timekeeping options will improve accuracy and efficiency.

And, of course, AccuFund's payroll system is continuously updated to ensure compliance with all major tax changes—helping ensure that your organization remains in compliance. Federal 941 and W-2 processing wizards are built in, or you can choose Payroll Tax and Year-End­ Processing services integrated with AccuFund.
Enjoy Features and Functionalities Designed with You in Mind
As a complete payroll solution, AccuFund's Payroll module is uniquely capable of meeting the complex needs of government and nonprofit payrolls. Robust functionalities empower your payroll workers to:
Split direct deposit in multiple ways, or go with a partial direct deposit plus a net check.
Make adjustments on screen, such as running multiple payrolls per period for special pays.
Enjoy unlimited reporting capabilities, as well as check format options, through the flexible Report Writer tool.
Base your run calculations on calendar year, fiscal year, and employee anniversary date.
Record and track non-payroll taxable benefits for W-2 purposes.
Other popular features include unlimited earnings codes, unlimited deductions, and unlimited accruals.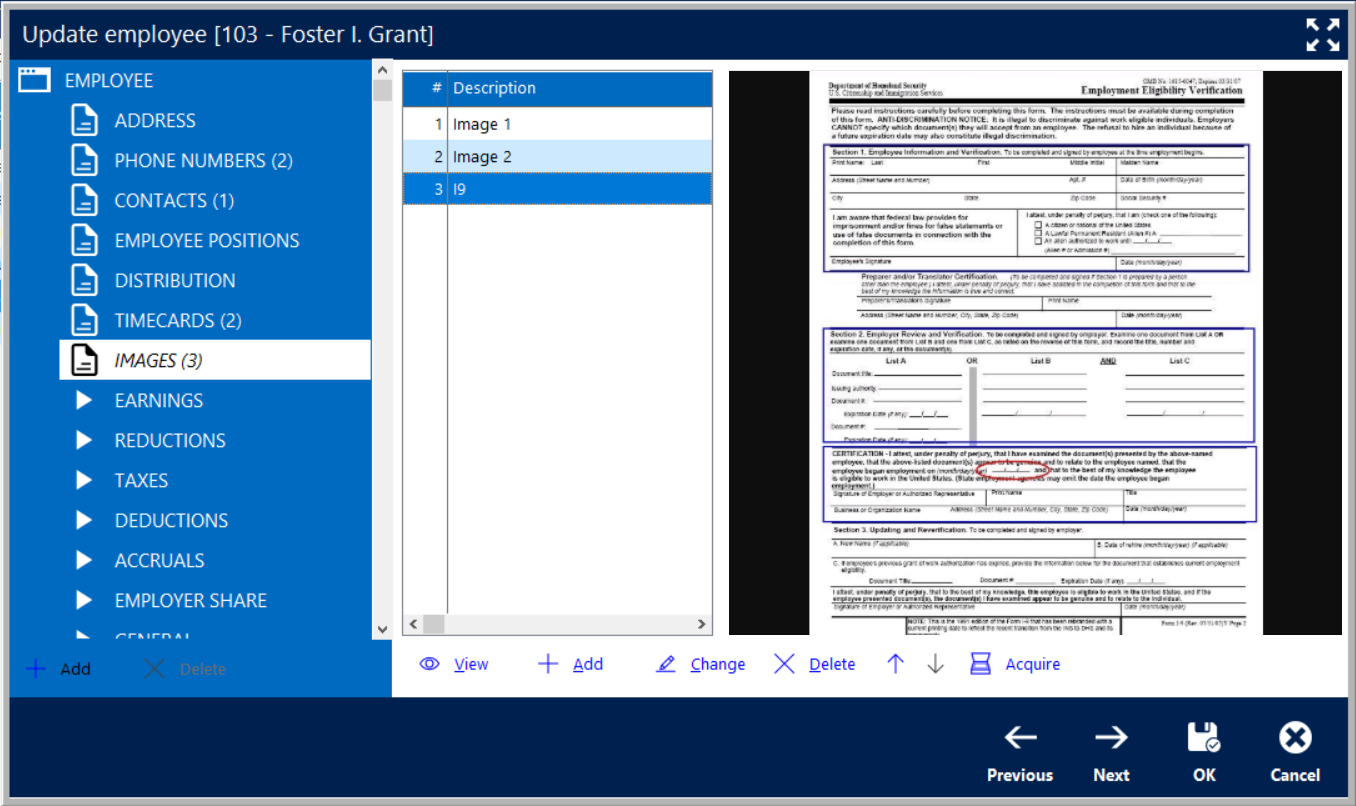 Maximize Performance with a full HRMS
The Payroll modules stands on its own, but can be a part of AccuFund's complete Human Resources Management System that can include the following components:
Timekeeping—Employee Time Entry, Physical Time Clocks, and Mobile Soft Clock Applications round out a complete set of options.
Human Resources—This module provides all personnel information in addition to what's available in Payroll. Additionally, it can track the history of changes to a record and multiple "instances," such as employee reviews, education, certifications, and language skills.
Web Portal - Empower employees to manage time, self-service, leave requests, and provide access to other non-payroll modules, reports and dashboards.
General Ledger—Like all AccuFund Accounting Suite components, Payroll updates the General Ledger on a real-time basis.
Reports/Forms Designer—Customize reports and forms with graphics, text, and form fields.
Customize Reports and Forms to Suit Your Needs
A variety of modifiable report and form templates are included with the module to meet your organization's specific reporting needs. Standard templates include:
Payroll Check Form
Payroll Employee Report
Payroll Time Documents
Payroll Preliminary Register
Payroll Final Register
W-2s
Automatic Generation of Quarterly 941A and B
ACA Tracking and Reporting
Let's Get Started
AccuFund supports your mission with a full suite of financial management applications for nonprofit and government organizations. To learn more and arrange a demo, contact AccuFund at 877-872-2228 or This email address is being protected from spambots. You need JavaScript enabled to view it. or visit www.accufund.com.